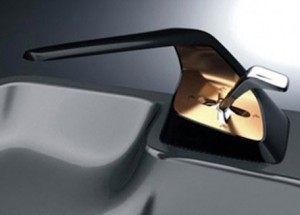 Designers set a new bench mark in award winning design history with passion in their craft.
It's not hard to see here where the inspiration for this tapware might have come from.
Reminders of a legendary sports car gear box to accelerate speed at the flick of a wrist, with richness and a sleek design element finished off with it's gold and black body.
Clever and classy. The sort of design you would expect Roberto Cavalli to acquire either on his luxury boat or residence.
The future is extra ordinarily bright and colorful in bathroom design and designer wares. No longer will we feel bored in the bathroom with the injection of color through LED lighting.